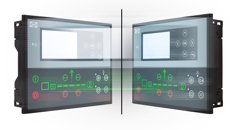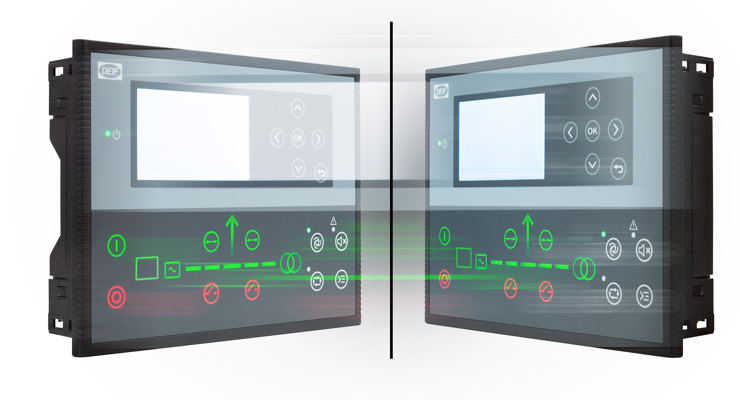 The AGC 150 Remote Display acts as a mirror of the master controller in your application, providing remote access and control for any master controller in the AGC 150 series over the local network. It enables fast operator response to operational incidents and convenient access to all controller parameters from a secondary location.
The unit is ideal for central control rooms and for providing easy access to controllers in hard-to-reach locations, for example controllers mounted in canopies or containers that are stacked on top of each other and out of reach.
Same features as the master controller
The AGC 150 Remote Display gives you access to all of the features in the master controller it is linked to, making remote configuration of controller parameters as easy as using the master controller itself. The user-friendly display and menu structure in 8 languages is the same as the rest of the AGC 150 series. Configuration changes performed on the AGC 150 Remote Display are immediately reflected on the master controller, and vice versa.
Flexible connection options
Installation and connection of the AGC 150 Remote Display is quick and easy. The unit can be connected to its master controller over the local network through an Ethernet switch or using a point-to-point cable connection, and the front-mounted IP 65 classified enclosure is as easy to install as all other controllers in the series.
Other AGC 150 variants
The AGC 150 Genset controller containing all necessary functions for control and protection of a genset. The slim design makes the genset controller suitable for paralleling even small gensets thus the AGC 150 is integrable in nearly all types of gensets.
The AGC 150 Mains controller can synchronise one or two breakers (mains breaker and tie breaker) plus protect and monitor the utility.
The AGC 150 BTB controller can synchronise one breaker, protect and monitor the busbar. In total, DEIF's power management system can handle eight bus tie breakers.
The AGC 150 Standalone controller for controlling non synchronising applications with all the necessary functions for genset protection. It stands out for its reliability and operator-friendliness.
The AGC 150 Hybrid controller comes with all the necessary functions for protection and control of a hybrid installation with PV and genset.
The AGC 150 Engine Drive controller provides engine protection and controls engine start and stop sequences, including simple fixed- and variable speed functions for pump applications.
The AGC 150 PMS Lite controller is ideal for setting up and operating simple power management systems in off-grid plants with up to 128 gensets.
Product videos
Products
AGC 150 - Plug'n'play genset controller in slim design
The AGC 150 - Flexible solutions for a wide range of power and engine control applications (update)