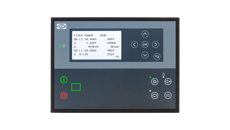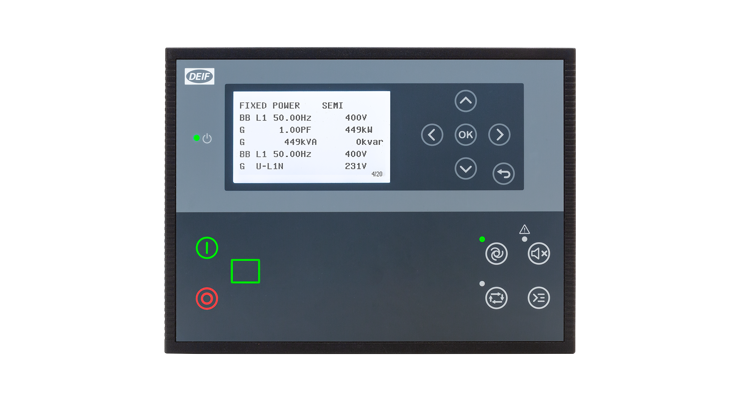 The AGC 150 Engine Drive is designed for OEMs and system designers who require simple, flexible, and reliable engine control for various applications. It comes with a built-in application that protects the engine from overload and supports various start and stop sequences, from simple start and stop to pump functions with manual RPM control or regulation via flow or pressure control. The controller supports Stage V emission requirements.
The AGC 150 Engine Drive offers a wide selection of configurable inputs and outputs, including CANbus ports for connecting an additional operator panel and an Ethernet port for Modbus communication or for configuring the unit using DEIF's free PC tool utility software. The IP65 certified front-mounted controller is easy to mount, and easy to use thanks to its graphical display unit available in 11 languages.
The AGC 150 Mains controller can synchronise one or two breakers (mains breaker and tie breaker) plus protect and monitor the utility.
The AGC 150 Genset controller containing all necessary functions for control and protection of a genset. The slim design makes the genset controller suitable for paralleling even small gensets thus the AGC 150 is integrable in nearly all types of gensets.
The AGC 150 BTB controller can synchronise one breaker, protect and monitor the busbar. In total, DEIF's power management system can handle eight bus tie breakers.
The AGC 150 Stand alone controller for controlling non synchronising applications with all the necessary functions for genset protection. It stands out for its reliability and operator-friendliness.
The AGC 150 Hybrid comes with all the necessary functions for protection and control of a hybrid installation with PV and genset.
The AGC 150 Remote Display unit provides access and control of any master controller in the AGC 150 series over the local network. This provides fast incident response and operational convenience.
The AGC 150 PMS Lite controller is ideal for setting up and operating simple power management systems in off-grid plants with up to 128 gensets.
Product videos
Products
The AGC 150 - Flexible solutions for a wide range of power and engine control applications (update)